I was making protein pancakes for a while before I came up with this recipe. They were always fine but to be honest I think I was just happy to be eating something that looked like pancakes. In hindsight, they were dry and powdery and didn't have much taste at all. These pancakes are fluffy and full of flavour – especially if you go for the optional chocolate chips!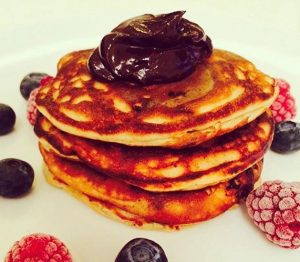 Ingredients
2 eggs
1 tablespoon 0% fat vanilla yoghurt
½ banana
1 scoop vanilla whey protein (or any other flavour you prefer)
1 handful of oats
1 tablespoon dark chocolate chips (optional)
Directions
Place all the ingredients in a blender (except chocolate chips if using) and blend until smooth
Stir in chocolate chips
Heat a small bit of coconut oil in a small hot pan and spoon the mixture in using a tablespoon (roughly 2 tablespoons per pancake)
Put a dollop of vanilla yoghurt on each pancake and stack them up – this keeps your stack really moist so you don't have to endure dry pancakes!
Top with fresh berries, nut butter, yoghurt or your toppings of choice
Tip: you u can buy tiny frying pans for very little money (I got mine in aldi) and they are the perfect size for protein pancakes!