I love soup, but I have come to realise that I am very picky about it. I never like the store bought soups, they just don't taste good to me and I guess that's because they aren't freshly made. They contain unnatural ingredients to help extend the shelf life so are nowhere near as healthy as a homemade version. This classic cream of soup is made with all natural ingredients (bar the optional glug of wine) and is full of flavour. It's the perfect lunch for a bitterly cold day and goes great with a slice of brown bread and butter. This, for me, is the ultimate comfort food when I am super tired or am feeling under the weather. There's nothing like a steaming bowl of chicken soup and a lazy day on the couch to nurse you back to health.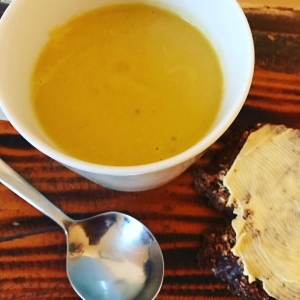 Ingredients
1 large onion
2 leeks
1 kg of chicken thighs, skin removed
100ml White wine (optional)
2 small-medium sized carrots
2 Knorr chicken stock pots
Large bunch of fresh thyme
150ml cream
Directions
In a very large pot, place the chicken thighs in a single layer and turn the heat on low. Leave to get a little bit of colour, turning after a few minutes. No oil is needed.
Chop the onion, leek and carrot into large chunks.
When the chicken is slightly coloured on both sides, add the wine and turn the heat up high to burn off the alcohol.
Once the liquid has reduced by half, add all the vegetables, thyme, stock and enough boiling water to cover all of the vegetables. Season with salt and pepper.
Place a lid on the pot and bring the soup up to a boil. Reduce the heat to medium and allow to simmer with the lid on for 45 minutes.
Remove the chicken from the pot and strip the meat off the bones. Put the meat back into the pot and allow to cool for awhile.
Blend the soup in a food processor or blender until very smooth.
Put the soup back in the pot and stir in the cream.
Add more salt and pepper to taste.