Are you feeling stressed out? Like you don't have enough time to relax and unwind? Why don't you try a spa day? Every now and then I find myself scrolling through the websites of Ireland's best spas, trying to find the perfect spa day. I work full time, in a job that requires hard work and long hours. I am also studying towards a second qualification, which takes up most of my spare time when I'm not at work. On top of that, I run this blog, The Healthy Spoon, which, even though it looks easy, requires quite a lot of time and effort. I am busy. And when you are busy, it is very important to make sure you are taking time to relax and take care of yourself. I am all about investing in my well being. I am happy to work hard, but I always make sure that I am minding myself too. Spa days are not cheap, but I personally find them so beneficial and think they are worth the price tag. It's rare that we take time to relax completely without checking our phones or emails or looking at social media. A spa offers a rare opportunity in our modern world to switch off, free our minds of stress and truly relax and I am happy to pay for that every now and then.
Last week I took 2 days off work, a Friday and a Monday. I spent Friday, Saturday and Sunday studying which was easy to do as I had Monday to look forward to. Monday was going to be a study free, work free, stress free day. I got up early, had a shower and had a lovely, leisurely stroll in the beautiful sunshine. I walked to the Shelbourne Hotel on Stephen's Green, sipping my coffee on the way (although I'm not sure you are supposed to have caffeine before a spa day), looking forward to a day of pampering.
When I made the appointment, I was told I could arrive an hour early if I wanted to use the pool, sauna and steam room facilities. However, my appointment was already early and I didn't think wrenching myself from bed any earlier than I did would be a good start to my day of relaxation, so I gave that part a skip. I arrived fifteen minutes early and was shown to the dressing room. There was a locker that had my name on it and it had a robe and slippers inside. The one thing I would say here is that I was surprised that the robe felt hard and scratchy. It looked old and faded and I was a little disappointed, but this is a small detail.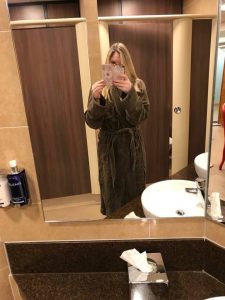 I went back upstairs and was shown into the waiting room. This room was beautiful, with a stunning fireplace and fresh flowers, and the staff were really lovely and welcoming. I was given a glass of cold water and a form to fill out, which included questions about my skin care routine as well as my preference of pressure for my massage.
Once I had finished filling out the form, I was shown to my treatment room. My therapist had a quick chat with me, explaining the treatments and products that she would use, and asked about any allergies or skin sensitivities I had. I told her I had extremely sensitive skin that reacts easily to products and this was not a problem. She left the room while I got ready and came back a few moments later when I was lying on the massage table, already feeling more relaxed.
When I called to make my appointment, I asked for a frangipani body scrub, a frangipani body wrap and a stress busting massage. A few minutes after I made the appointment I got a call back from the spa to let me know that there was an offer on this month called 'Frangipani Body Bliss'. This offer incorporated the scrub and the wrap and also included a facial and a free gift – and was cheaper than booking the wrap and scrub separately. How nice is that?! I happily changed the details of my appointment and opted for the Frangipani Body Bliss and the Stress Busting Massage.
My therapist started with the scrub which was different to what I was expecting. The last time I had a scrub (in a different spa) it had been a salt scrub so this is what I was expecting. However, this time it was a brush. It was quite short with just a few brush strokes on my legs and arms, and then the massage started. The therapist used a frangipani body oil (which I also got as part of the free gift, along with a frangipani shower cream) that smelled so divine. I asked for a light pressure massage and it was absolutely perfect and really relaxing. I know some of you may prefer heavier duty massages, and this can certainly be requested, but I have no room for pain of any kind in my day of relaxation!
Once the massage was finished (it was 40 minutes long) the therapist folded the towels up around me to leave the frangipani oil soak in to my skin while she did the facial.
I was a little apprehensive about the facial as, as I mentioned, I have extremely sensitive skin which can flare up when a product disagrees with it. And when I say flare up I mean I end up looking like I have third degree burns, with a bright red boiling hot face. Not pleasant! The products she used were very gentle and caused no redness at all. This was the only time I actually saw a visible improvement in my skin after a facial. Normally my skin is left red and blotchy, which I thought was normal after a facial. This time however, my skin tone looked very even and there was no redness at all. I have some dry, red skin around my eyebrows too and this looked completely gone after the facial. My favourite part of this was the face mask. This was mixed in a pot (or at least this is what it sounded like) and painted it on to my face with a brush. It then hardened into a mask which was peeled off my face in one strip. I had a neck and scalp massage while the face mask set.
All in all the treatments lasted around two hours. Two hours of being pampered, being phone, technology and distraction free. Two hours of just lying down, not thinking of anything except how relaxing this experience was! My therapist gave me a card showing what products she used on my face which I think I might buy to use at home. They were all Elemis products and were very gentle and hydrating.
When my treatments were over I was brought to the relaxation room where there were big comfortable chairs overlooking Stephen's Green. There were lots of magazines and there was a selection of teas as well as fruit and nuts and water (flavoured with watermelon – so delicious).
I was brought a plate of fruit and berries with some sorbet and juice and was left to relax. After an hour I felt ready to tear myself away from this beautiful haven right in the middle of the city. Again I opted to skip the pool, sauna and steam room as I wanted to leave the frangipani oil on my skin. I went back to the dressing room, changed and walked home to cook myself a nice lunch.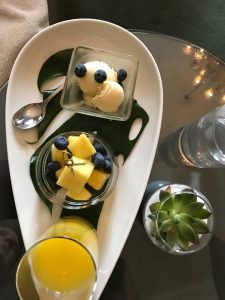 Just because the spa part of the day was over, didn't mean the day of rest was coming to an end. I spent the day cooking and blogging and relaxing by the tv, not thinking about study or work. When I take a day off to relax, I commit to it and don't allow any stressful thoughts to ruin it!
Overall I would give the Shelbourne Spa 8/10. I was very impressed that they called me to inform me of an offer that was cheaper than what I had booked and included an extra treatment. My treatments were excellent and every room was beautiful and relaxing. In total, the treatments came to €240. I realise this is a lot of money, but I firmly believe that I am worth spending a few hundred euro on every now and then. Especially if it means looking after myself and taking some well needed time out to unwind and relax.
I have a very busy year ahead of me, with lots of exams, so I am already looking forward to booking my next spa day. Now I just have to decide which spa to try next!
Please leave a comment or send me an email if you have any questions or comments or recommendations.
Siún x