These zesty, spicy salmon and sweet potato fishcakes are such a delicious dinner and are full of good ingredients! This recipe makes 10 medium sized fishcakes – I would have two as one portion.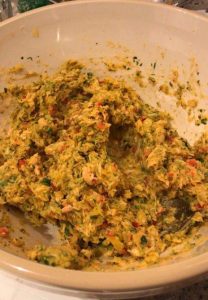 Ingredients
4 salmon fillets
5 sweet potatoes
1/2 head of broccoli
1/2 red pepper, diced
1/2 yellow pepper, diced
1 reseeded red chilli, minced
1 onion, diced
2 cloves of garlic, minced
Juice of 1/2 a lime
Handful of fresh parsley, chopped finely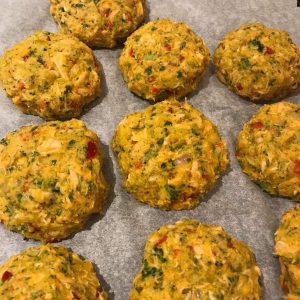 Directions
Heat some olive oil (enough to cover the bottom of the pan) in a pan over medium heat.
Add the salmon fillets skin side down and cooked, turning once, for 10 minutes or until cooked through
While the salmon is cooking, bring a pot of water to the boil.
Peel the sweet potatoes and chop into chunks. Chop the broccoli into florets. Add the sweet potato to the boiling water and cook until soft – 15-20 minutes. Add the broccoli for the last 5 minutes of cooking.
Melt a teaspoon of butter and a teaspoon of oil in a pan over medium heat. Add the diced onion and a large pinch of sea salt. Sweat the onions for 5 minutes, until soft and translucent.
Add the garlic and chilli to the pan with the onions and stir for around 30 seconds before adding the lime juice. Stir together and turn off the heat.
When the salmon is cooked, remove from the pan and allow to cool.
Drain the sweet potato and broccoli when cooked and leave to cool.
When the salmon is cooled, remove the skin and chop into chunks.
Blitz the sweet potato and broccoli, along with the onions, garlic and chilli, in a food processor until creamy but with some chunks remaining for texture.
Pour the mixture into a large bowl and add the diced pepper, parsley and salmon chunks. Stir together and season generously with sea salt and fresh ground black pepper.
Line a baking tray with some parchment paper. Form the fishcakes and place on the baking tray. Then leave in the fridge to set for 30 minutes.
Heat some olive oil in a pan over low-medium heat and add the fishcakes, I cooked mine in 3 batches to leave plenty of room in the pan to turn these. They are very delicate!
Add the fishcakes to the oil and cook on one side for 5 minutes before flipping carefully onto the other side for another 5 minutes until they start to go slightly crispy on the outside.
Serve with crunchy stir fried vegetables for a light a nutrient packed dinner!